An internet tour of the island of Kauai.
It is just a few clicks away and is free.
About Kauai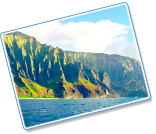 Kauai is called the Garden Island. That is because it is very green over here. The top of Mt. Waialeale gets over 400" of rain per year. Waialeale is in the center of the island and rivers radiate from it. Rainfall varies greatly though with the West side of the island only getting about 20 inches a year.

Population is about 70,000 and growing. It is still fairly quiet.

Main features of the island are Central mountains, Waimea Canyon, Na Pali coast, and lots of sandy beaches.
How to get to Kauai?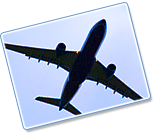 Getting to Kauai is easy. Almost everyone gets here by way of the Lihue Airport. It connects Kauai to the other islands as well as some Mainland destinations.

There are also cruise ships that come to Kauai.

For the very few you can get here by small boat.
About Rental Cars?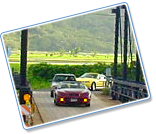 Kauai does have a bus system but it is limited. It doesn't go to a lot of the tourist spots and the stops are far apart.

Rental cars are the best option if you want to get around Kauai. There is traffic and parking can be very hard to find at many of the spots in guide books.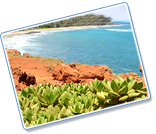 So take some time and check out the following map and links. It will give you a good idea of what is here and where the points of interest are.

If you are planning a vacation over here I would recommend staying on the side of the island that you will be spending most of your time over here.
Related Pages

Things to do on Kauai.
Splash of Kauai Activities! Here is a list of fun activities to do on Kauai.

Go to [Splash of Kauai Activities]!