Welcome to the activities page. Here you will find many interesting things to do on the island of Kauai. There is not enough room to list everything to do here. If there is something that you would like to do, but can not find, please send me Mail. This list is of course a work in progress. We try to keep it as up to date as possible. It is also a growing list so let us know what you are interested in.
About Island Ukulele
Island Ukuleles?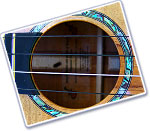 Island Ukuleles are hand made on the Island of Kauai by Raymond Rapozo.

He makes Ukuleles in four sizes. (Standard, Concert, Tenor, and Baritone) He also makes Guitars.

He makes the Ukuleles mostly by himself so he doesn't make a great quantity of them. They are actually made by Raymond not just in his shop.
---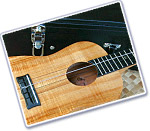 He uses Koa for the bodies of the Ukuleles, ebony for the fret boards and Mahogany for the necks.

He likes to do inlay work on the Ukuleles with abalone and mother of pearl shell. Mainly on the fret board and around the sound hole and around the face.