Kalalau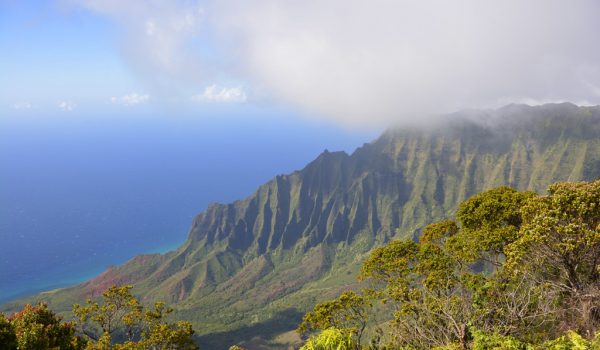 At the end of the road past Waimea Canyon you will find Kalalau. It is the largest Valley on the Na Pali Coast and the only one offering a view that you can drive to. There is a trail along the rim with breathtaking views of the valley and ocean. To get into the valley you must start at Kee Beach at the end of the road on the North Shore. Eleven and a half miles of hiking will get you to Kalalau. It is also accessible by boat in the Summer time. In the winter the beach is guarded by huge winter swells.
---
The view from Kalalau lookout is usually spectacular. Sometimes you can be stuck in the clouds and rain though.
If it is cloudy wait a little bit it can change very fast up there. Often there is just a thin layer of clouds at the top of the valley and it can totally change in less than a minute.
---
Even if you can not see into Kalalau Valley. There are many interesting plants and birds like this Amakihi and  Elepaio to watch.
---
The third picture on the right list is the view from the Puu O Kila Lookout. This is at the very end of the road. There once was a plan to extend the road to the North Shore. They didn't plan it very well and it did not go far. It is now the start of the Pihea Trail. The trail gets steep and slippery toward the end. Be sure to not fall off of the many cliffs.
---
The lookouts and the trails near Kalalau are good places for birding. You can see many species of birds that are endemic to Hawaii. Most of the birds that are seen in lower elevations are introduced birds.
---
Kalalau is also next to the Alakai Swamp so it is very lush with many ferns of all sizes.
---
Kalalau at sunset. If you are planning on hiking be sure to get out before the sun sets. It can get very dark up there.
---
Related Pages

Things to do on Kauai.
Splash of Kauai Activities! Here is a list of fun activities to do on Kauai.

Go to [Splash of Kauai Activities]!