Na Pali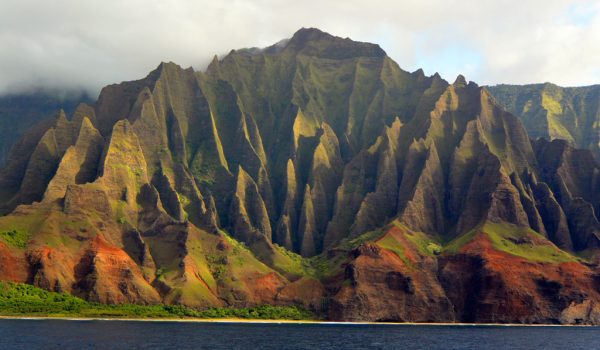 Kalalau Beach from the ocean. It looks good from the beach too. If you hike in the best part about getting to the beach is that you have made it. You can stop and rest.
---
The Napali Coast trail starts at Kee Beach and runs to Kalalau 11 miles later.  There are many very narrow places with big drops below and rocks above. There are stream crossings that are very dangerous at high water levels. The Napali Coast can also be seen from boat and air.
---
Hanakapiai Falls is 4 miles one way from the start of the trail at Kee Beach. The first two mile in gets you to Hanakapiai Beach. There is no beach there during the winter. The waves wash it away. Another 2 miles up the valley gets you to Hanakapiai Falls. The hike up the valley is harder than the hike to the beach. Past Hanakapiai you are required to have a permit. The trail continues from the beach not the waterfall. The trip up the valley is a side trail. The trail past Hanakapiai is much worse and it continues to get worse as time goes by.
---
Past Kalalau there is no trail. This is Makuaiki point. This is the furthest point that you can see from the trail. It was also the point used to welcome people to Skull Island in the 70's version of King Kong.
---
There is the open ceiling cave. It can be seen by sea or by air.
---
Dolphins come close to shore but are best seen from a boat. In the winter you can also see whales.
Related Pages

Things to do on Kauai.
Splash of Kauai Activities! Here is a list of fun activities to do on Kauai.

Go to [Splash of Kauai Activities]!