Welcome to the activities page. Here you will find many interesting things to do on the island of Kauai. There is not enough room to list everything to do here. If there is something that you would like to do, but can not find, please send me Mail. This list is of course a work in progress. We try to keep it as up to date as possible. It is also a growing list so let us know what you are interested in.
Island Ukulele – Standard Ukulele (3)
This is a standard ukulele made on Kauai by Island Ukulele. The body is Full Curly Koa wood.
It has an abalone inlay of the island of Kauai on the head, "Island Ukulele" at the top of the fret board,
Abalone Dolphins down the fret board, and Abalone inlay around the sound hole.
Below you can see more pictures of this ukulele. The pictures are of this ukulele.
---
Each ukulele is unique. The ukuleles that you see here are in stock unless you see a "sold out" banner. Since they are only one kind items they can sell out fast. If we get more than one order for the same item the first order will get the ukulele. Other orders will have the option of a
custom order
, a change of order, or a refund.
---
Koa wood changes it appearance with changes in lighting. Light and dark areas can switch depending on how you hold the ukulele. We try to capture the ukulele as best we can in the photos. Unless you come to Kauai you can not hold or play the ukulele first.
Information

Price includes a case and shipping. Shipping is currently by USPS with insurance for full value.

---

You may be responsible for local taxes on this item.
Details

Description- Island Ukulele Standard (3)
Size- Standard (Soprano)
Dimensions- Length- 54.8cm / Width 17cm / Depth 6cm-6.7cm / Frets 3.7cm-4.5cm
Specs- Frets : 13 / Strings : 4 / Curly : Full / Inlay : Kauai shape on Head, Island Ukulele and Dolphins on Fret Board, and Abalone Around the Sound Hole.
Wood- Body : Koa / Neck : Mahogany / Fret Board : Ebony / Bracing : Spruce / Keys : Grover
Related information
Island Ukuleles?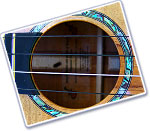 Island Ukuleles are hand made on the Island of Kauai by Raymond Rapozo.

He makes Ukuleles in four sizes. (Standard, Concert, Tenor, and Baritone) He also makes Guitars.

He makes the Ukuleles mostly by himself so he doesn't make a great quantity of them. They are actually made by Raymond not just in his shop.
---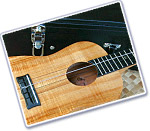 He uses Koa for the bodies of the Ukuleles, ebony for the fret boards and Mahogany for the necks.

He likes to do inlay work on the Ukuleles with abalone and mother of pearl shell. Mainly on the fret board and around the sound hole and around the face.
Ukulele Sizes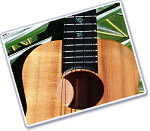 Ukulele Sizes
・Standard (Soprano)
・Concert
・Tenor
・Baritone
Usually 4 strings 6 and 8 strings are made too.

Standard through Tenor are common. The Baritone ukulele is not made very often.
---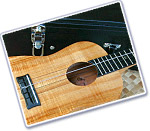 Sizes for Island Ukulele.
・Standard:Length = 54.8 cm
・Concert:Length = 62 cm
・Tenor:Length = 70.3 cm
Not all ukuleles are the same size and shape. The sizes are similar though.
---
・Standard (Soprano)
This is the smallest of the ukuleles that are made. They are good for small people or those that just want to play a small instrument.
---
・Concert
Larger than the Standard. It has a deeper and louder sound.
---
・Tenor
This is the favored ukulele for hawaiian entertainers. It is larger with deeper louder sound. It is also often made in 6 string and 8 string versions.
Ukulele Strings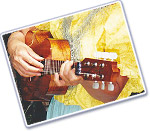 Ukuleles usually have four strings. They are usually made of nylon. The low g has a wound string.
On Concert size 6 string is available.
On Tenor size 6 and 8 string are also available.
The 6 and 8 strings have some wound strings.
Ukulele Shape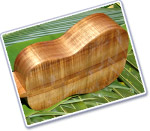 Ukuleles can be made in any shape. they are traditionally made in the shape of a small guitar.
Another popular shape was that of the pineapple ukulele. This had and oval body that resembled that of a pineapple. They are still sometimes made.
The amount of curve on the ukulele varies from maker to maker and they some times change their shapes.
Ukulele Material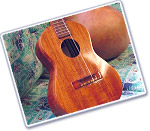 Ukuleles have been made out of many different materials.
Wood is by far the most common. Koa is a Hawaiian hardwood that is very good for ukuleles.

Island ukuleles usually have a Koa body, Mahogany neck, Ebony fretboard, and Spruce for the braces and kerfed lining.
Curly Koa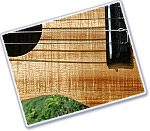 Curly Koa is Koa with a wavy grain. It gives the ukulele a striped appearance. It is very beautiful and is more rare. This means that it is more expensive. It comes in different grades. The grading is of course subjective.
Grades of Koa
Normal - No noticeable curl.
Medium Curly - Some about half curly.
Full Curly - All curly.
Super Deluxe - All curly with very distinct stripes.