Welcome to the activities page. Here you will find many interesting things to do on the island of Kauai. There is not enough room to list everything to do here. If there is something that you would like to do, but can not find, please send me Mail. This list is of course a work in progress. We try to keep it as up to date as possible. It is also a growing list so let us know what you are interested in.
"NA HANA A KE ALOHA" Leilani Rivera Bond / Hawaiian Music CD
Na Hana A Ke Aloha by Leilani Rivera Bond is a collection of love songs. This is her third CD.

The daughter of the famous Kauai singer composer Larry Rivera. Leilani has been immersed in Hawaiian music her whole life.

The beauty of Kauai flows through her voice as she sings these songs of love.
Details

"NA HANA A KE ALOHA " Leilani Rivera Bond
Song list
(Total Time : 44:36)

1. Na Hana A Ke Aloha : 4:26
2. He Mele Aloha No Ka 'Ulu : 3:17
3. Kamalani : 3:35
4. Huhulu Ii Ka Hulu O Ka Manu Ua Nani Ha'ena I Ka 'Ehukai : 4:45
5. Palehua : 3:38
6. Koi : 4:04
7. Waimea Cowboy / Hawaiian Rough Riders : 3:50
8. Kou Aloha Mau A Mau : 3:34
9. Ku'u Pua Tuberose : 4:17
10. Aue Ra Taku : 3:26
11. E Ho'i I Ka Pili : 4:14
12. 'Ekolu Mea Nui : 3:30
Related information
Leilani Rivera Bond the Recorder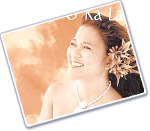 Here are the CDs she has made so far.  
2000 Na Hoku o Ka Lani.
2002 Pulama Ia Na Mele o Kauai.
2004 Na Hana A Ke Aloha
2007 A Kaua'i Christmas
Leilani at the Hyatt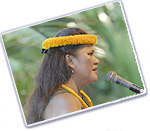 Most evening she can be found singing at the Kauai Hyatt in Poipu.
She does a show around sunset at the Sea view Terrace.   
Some evenings she is singing. Sometimes she does the Keiki hula show with some of the younger members of her Halau Hula.
Halau Hula o Leilani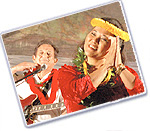 She also is a Kumu Hula and teaches Hawaiian Hula and Tahitian. She teaches all ages at her Halau.
 
They are often seen performing around the island.
Here she dances hula while her father Larry Rivera sings.
---
She also travels often performing in Reno and Japan.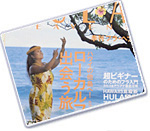 Here she is on the cover of the Japanese Magazine Hula Heaven.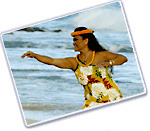 And one more picture of Leilani at Shipwrecks. Although she dances at shows she is usually singing while her Halau dances.